Cambodia's current domestic electricity supply is dominated by coal power plants and hydropower, at 41% and 44%, respectively. Solar is currently at 6% and growing. Energy demand continues to grow, with an annual average increase of around 20% since 2010.
Cambodia targets 3,155 MW of solar and 3,000 MW of hydro capacity by 2040
Installed Power Capacity (2021)
Cambodia has transferred from 100% imported and oil-fired generation to a largely to domestically generation in 2021
Approximately 90% of the population have access to energy, with 99% of all villages connect to the national grid.
According to the Ministry of Mines and Energy, Cambodia aims to have an additional 495 MW from seven solar power plants expected to be put into operation, representing 20 per cent of the total energy supply by 2023.
Average Electricity Prices (Industrial User)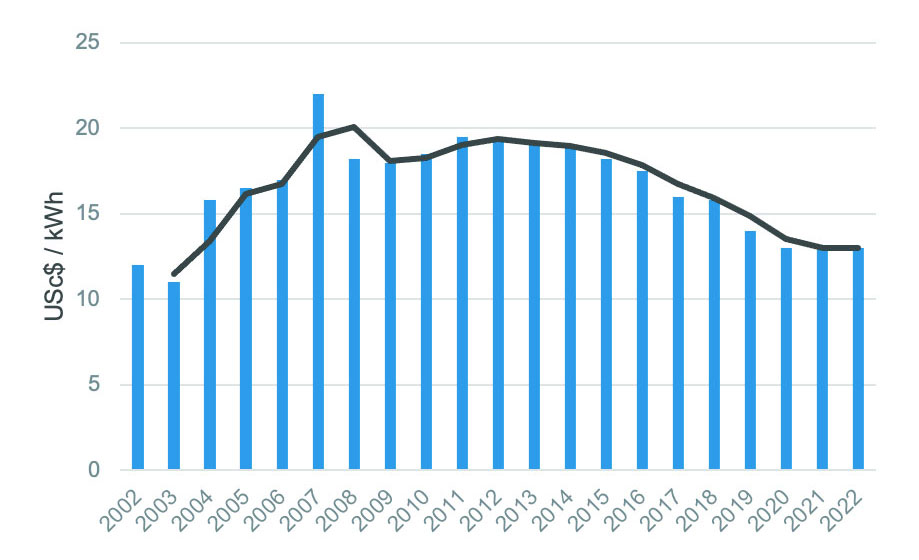 In 2016, EAC started the implementation of the Strategic Plan to reduce electricity tariff for areas receiving electricity from National Grid.
Thanks to their efforts, the current tariff has stagnated or decreased in recent years. 
However, the country is still partly dependent on coal for its energy needs, and in 2022 the Prime Minister warned that the national grid is losing over US$ 100M a year due to the global fuel crisis and rising coal prices. 
Whilst the strategic Plan has worked well, Cambodia is likely increasing the tariff in the foreseeable future. 
Government Lead Initiatives:
Electricity Production in Cambodia reached 10,313 GWh in Dec 2022, compared with 9,713 GWh in the previous year. As a result, the electricity Production data of Cambodia is updated yearly, averaging 1,770 GWh from Dec 2004 to Dec 2022.
The updated NDC sets a target of 25% of renewables (including hydro) in the power mix by 2030, confirmed by the RE Master Plan until 2040. Meanwhile, the Government refers to the December 2021 Long-Term Strategy to Carbon Neutrality by 2050 (LTS4CN), the National Strategic Plan on Green Growth 2013-2030, and the National Climate Change Strategic Plan 2014-2023 to guide its implementation of RE technologies.