Singapore, 31 March 2020 – TotalEnergies Distributed Generation (DG) has partnered with Greenfields, the largest dairy company in Southeast Asia, to provide solar power for its biggest milk processing plant in Palaan, East Java, Indonesia.
In line with Greenfields' commitment to sustainable farming, the plant which processes 70 million litres of milk annually will be equipped with a 1,300kWp solar power system by TotalEnergies DG. The system is expected to be running in Q3 of 2020. The 1,770MWh of electricity generated each year will cover around 20 per cent of the plant's power needs. With 3,750 modules, the system will reduce carbon dioxide emissions by around 1,482 tons every year.
"TotalEnergies DG is proud to be supporting Greenfields in its sustainability commitment to drive down carbon footprint in a safe and sustainable way," said Gavin Adda, CEO of TotalEnergies DG for Southeast Asia.
Founded in 1997 to cater to the Indonesian market, Greenfields manages two farms in Indonesia with 16,000 heads of cattle, and a world-class milk processing facility. Part of the AustAsia Food group, Greenfields also exports its dairy products to major markets in Southeast Asia, including Singapore, Hong Kong, Malaysia, Brunei and Myanmar.
"Greenfields is pleased to partner with TotalEnergies DG on this project, which will not only broaden our energy sources and improve our resource's efficiency, but also reduce our environmental footprint and help build a more sustainable future," said Edgar Collins, CEO of AustAsia Food.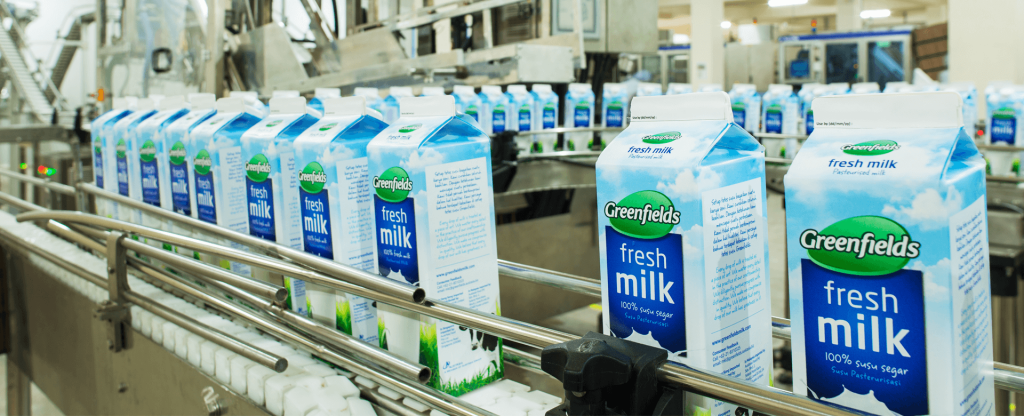 About TotalEnergies Distributed Generation
TotalEnergies Distributed Generation (DG) is a wholly-owned subsidiary of TotalEnergies dedicated to the development of distributed solar energy solutions, including solar-powered rooftops and ground-mounted solar panels. Active since 2018, TotalEnergies DG is one of the major international providers of fully integrated solar solutions for commercial and industrial customers in the region with a portfolio of over 500 MW of projects in development and operation.
About Greenfields
For over 20 years, Greenfields has provided Southeast Asia with the freshest milk and cheese available. With the knowledge that happy cows make great milk, our state-of-art farms facility in the beautiful highlands of East Java, Malang, Indonesia is home to 16,000 Holstein cows that are ethically treated and scientifically managed by a team of veterinarians and nutritionists. These happy cows produce an average of more than 75 million litres of fresh milk a year. Our fully-integrated dairy farm also ensures that Greenfields is delivered faster and fresher, right to your supermarket and your fridge. Greenfields provide only the best quality milk that's fresh and completely free of additives, preservatives and hormones. We also have our own brand of gourmet cheeses including Mozzarella, Ricotta and Bocconcini cheeses which are held to the same high standards. Our products are distributed all around Southeast Asia, including Singapore, Hong Kong, Indonesia, Malaysia and Myanmar.
* * * * *
Cautionary note
This press release, from which no legal consequences may be drawn, is for information purposes only. The entities in which TOTAL S.A. directly or indirectly owns investments are separate legal entities. TOTAL S.A. has no liability for their acts or omissions. In this document, the terms "TotalEnergies" and "TotalEnergies Group" are sometimes used for convenience where general references are made to TOTAL S.A. and/or its subsidiaries. Likewise, the words "we", "us" and "our" may also be used to refer to subsidiaries in general or to those who work for them.
This document may contain forward-looking information and statements that are based on a number of economic data and assumptions made in a given economic, competitive and regulatory environment. They may prove to be inaccurate in the future and are subject to a number of risk factors. Neither TOTAL S.A. nor any of its subsidiaries assumes any obligation to update publicly any forward-looking information or statement, objectives or trends contained in this document whether as a result of new information, future events or otherwise.